TERRA TEAS - Organic
Premium Organic Loose Leaf Teas from our
Mother Earth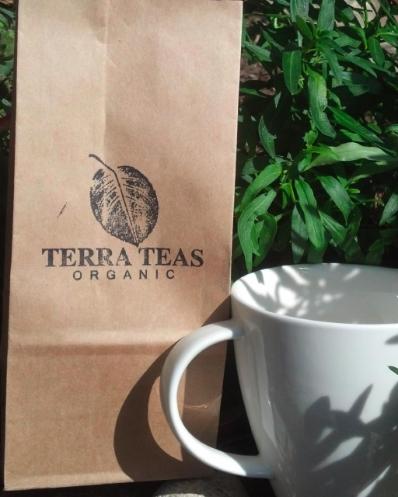 About Us
Terra Teas offers the finest premium luxury Loose Leaf Teas grown on Mother Earth.
Our selection of teas come to you from around the globe -- Canada, USA, India, Sri Lanka, Spain, Thailand, China, Japan and more.
We offer a large selection of tea that include: Organic Black & Flavoured Black teas, Green & Flavoured Green teas, Herbal & Fruit, White, Oolong and Estate teas.
Our teas are high in antioxidents, natural & certified organic - no pesticides or chemicals or GMO's, along with being gluten-free, sustainable, Fair Trade & Ethical Partnership certified teas. Only natural ingredients are used in our tea blends, no artifical flavours.
We have a number of convenient size selections that include:
- 25 g, 50 g, 100 g, 250 g packages offered in a number of different container options
We also provide wholesale teas available in 250 g, 500 g and 1000 g bulk sizes.
Would you like TERRA TEAS teas for your location? We can provide a variety of teas for your cafe, restaurant, business, or offices etc. We are now accepting wholesale requests.
We also do TEA SOCIALS and TEA + COFFEE Catering in the Hamilton, Burlington and Niagara regions!
Contact us for details!
Please send us an email to place an order or for any questions, use the 'Contact Us' tab or email us at:
terrateas@gmail.com and we will get back to asap! All orders can be paid using Interact eTransfer.


Why choose ORGANIC Teas?
- on protected land using NO synthetic fertilizer or pesticides
- on lands that have environmental integrity including the lands surrounding the gardens
- with minimal pollution and optimized biological productivity
- with replenishment and maintenance of garden soil fertility
- with the promotion of biodiversity in & around the tea gardens - this includes working to protect natural
wildlife habitats
Tea Philosophy
Our suppliers are active members of the Ethical Tea Partnership and pride themselves on leaving a small environmental footprint. Fair Treatment has been their mandate for almost 30 years. As part of this mandate, they do business with estates and suppliers that are Fair Trade certified wherever possible.
Zero tolerance for Child Labour -- strict care is taken to ensure our teas come from estates and companies that do not employ children at any stage of the tea production process.

Terra Teas – Organic: Credentials & Memberships
· Certified Organic by QMI Organic Inc.
· Certificate #150 - 2008
- NOP: National Organic Program as specified by the US Department of Agriculture
- CO: Canadian Organic as specified by CFIA
- EU: EEC 2092 as specified by the European Union
· USDA Organic
· Oregon Tilth Certified Organic (OTCO)
· Kosher: Certified Kosher & Pareve by Earth Kosher, Montreal Kosher
· Fair Trade Certified
· ETP: Ethical Tea Partnership
· Rainforest Alliance
Hamilton, Ontario | 905.769.5469